Natural finishing for interiors – Winter's colors
LIFE ENERGY
WINTER'S COLORS
Taking care of and improving the quality of the places we live in, helps us to increase the pleasure to share our emotions. Even a long wintertime can be enriched by decorating our homes with little and simple finishing works.
Oils and waxes give color and shine to the surfaces of both furniture and floors, a pleasure for the eyes and a warm sensation that only the wood can give. To bring us the joy to our eyes and hearts, life energy.
Natural Finishing for Interiors
Hardwax Parquet Oil 1030
Hardwax Parquet Oil 1030 is a mixture of precious natural oils reinforced with resins, enriched with micronized natural waxes, that lovingly restore wood to its original beauty. The product has been specially designed for untreated wooden surfaces. It is waterproof and stain resistant and is ideal for preparing all types of untreated wooden flooring. The addition of special waxes allow to obtain natural effect decorations, with same resistance to scratches but higher softness to touch, and an increased matting effect.
Yield: 10 – 14 m2/Lt Usage: Interior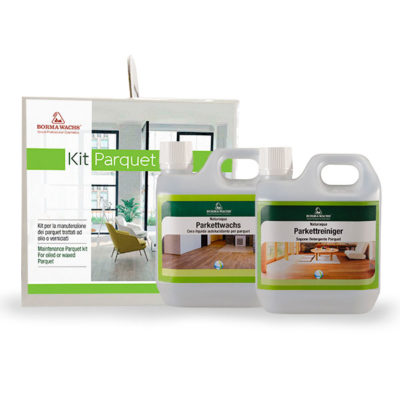 Kit Parquet 1
An ideal kit for the maintenance of varnished as oiled wood flooring. Water-based, kit with Self Polishing Wax. Keep from freezing.